The log command allows server owners to set a logging channel for Zira reaction roles.
Video Example
Coming Soon!
Usage
z/log 591529582876819457   # by channel ID




z/log #logs                # by channel name





To disable logging, run log disable.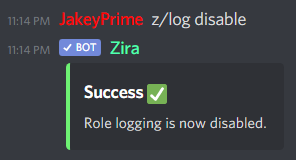 info
Zira will need the Send messages permission on the logging channel to send logs.
See the Discord help page Where can I find my User/Server/Message ID? for instructions on how to find a channel ID.
Example