The once command is used to add a one-time reaction role to your currently selected active message. After a user selects the reaction, the reaction is deleted after the role is assigned. This command is useful for accepting guild rules, granting a member rank, or accepting new terms to join a channel.
danger
One-time reaction roles cannot be mixed with other reaction role types on a message.
Video Example​
Coming Soon!
Usage​
z/once :rabbit: @Rabbitor            # by mention




z/once :rabbit: Rabbitor             # by role name




z/once :rabbit: 579530921498378260   # by role id



info
Zira will need the Add Reaction permission to add reactions to the active message.
Example​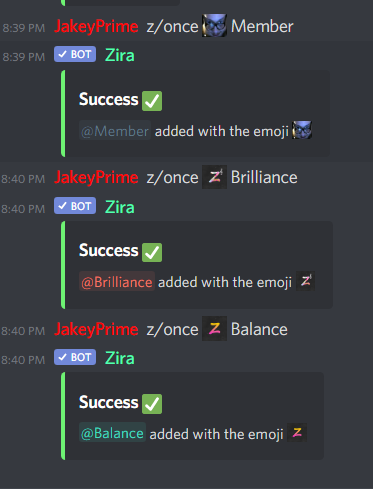 caution
Make sure to set an active message beforehand with both the channel and message commands or you will receive an error.